National Art Society Starts Anew with Makerspace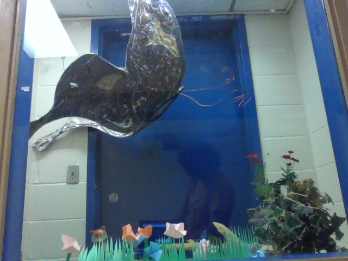 National Art Honor Society is an organization that offers art scholarships, develops character and brings more art experiences to the community. The National Art Honor Society chapter at Karns High School is an art club that began during the 2018-2019 school year but paused for 2019-2020 due to  Covid. Now in 2020-2021, NAHS is starting again. 
Art students who want to be stronger artists and promote art in school with leadership join, such as Dianne Orozco Rivera, a sophomore. "I have always liked art. I won a scholarship in art in fourth grade and I have always loved it and wanted to improve on it."
NAHS has helped the Karns community by painting backdrops for drama productions, chalk walk in dogwood and face paint for "Ghoul at the School". This year NAHS wants to do more local projects such as a mural downtown and an art exhibit in a local business or a public library. 
In previous years, there was an art club every Wednesday, however, this year art club has been replaced with Makerspace in the same time slot. Makerspace meets every Wednesday after school from 3:30 to 4:45. Makerspace was remodeled to include more students who didn't want to join NAHS but still want to make art. 
 Mia Luna Garcia, a freshman, explains, "Makerpace lets you have friends that have the same interest as you, such as an interest in art, anime, cartoons, or any other kind of nerdy stuff. I am here to make friends and improve my art more like other artists do." 
Many students like Garcia join for friends or other reasons but stay for the atmosphere.
Vada Kasefang, a senior, describes makerspace as "a great place to relax, work on your art and chill." Maker space has helped Kasefang "Since makerspace is so relaxed you can actually try to think about what you want to improve on and actually do it. It is also a good set time of the day to go and do that." 
Even though NAHS isn't taking new members, Makerspace is always open for anyone to join in Ms. Kingsbury's room, 162, so get in the art action.