Ghoul at the School Returning to KHS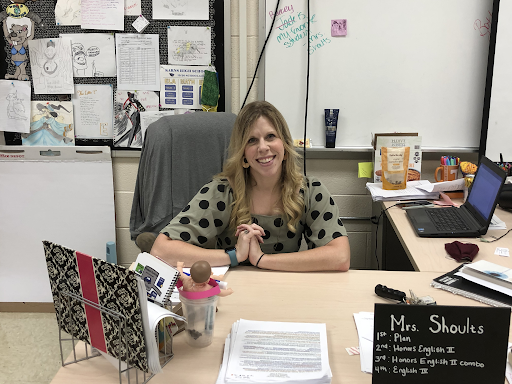 Last year, due to COVID 19, Ghoul at the School was unable to happen. What is happening to help get Ghoul at the School off the ground this year? According to the NHS sponsor, John Cionfolo, "SGA is
planning to have it outside instead of in the hallways to alleviate some COVID concerns parents may have.
"
April Shoults, head Ghoul at the School coordinator and SGA sponsor, comments, "I had marked off doing it inside, but then I thought it may be a better idea to move it outside. So I decided that we are going to try to, if weather permits, do it out here in the bus lane and under the awning so I feel like more families will feel more comfortable coming to the event if it's outside." 
While Ghoul at the School was affected by COVID-19, it also still finds ways of bringing the community together. When asked their opinion about how Ghoul at the School brings the community together:
Cionfolo replies, "
Ghoul at the School demonstrates to the community that the Karns student body cares about the people in Karns." As well as bringing the community together, it allows, "the first time they [upcoming freshmen and middle schoolers] are on campus is not the beginning of their freshman year." 
He also comments on the impact of Ghoul at the School on KHS students, "
The KHS students who help with Ghoul at the School love it.  They get to dress up and they love seeing and interacting with the children who come.  It definitely became one of their fond memories of high school."
Shoults answers by saying that she believes teenagers sometimes get a bad wrap due to negative media representation and that Ghoul at the School is a great way to fight the negative media, "I think the parents are able to see, 'Hey there's some really great things happening at Karns High School, and I'm looking forward to sending my child to Karns High School when they get older', so I think that makes a nice kinda connect for the parents of the community and the school itself, and that you see really great students doing really great things and being just good individuals, like loving on their community, and providing a fun, free, safe evening for kids to come out, and dress up, and have just a good old time."
So, what exactly is Ghoul at the School?
Cionfolo answers, "Ghoul at the School is somewhat similar to the "Trunk or Treat" that some churches do.  The biggest difference is that it is the various student organizations [not families and parents] who set up stations that have fun activities for children and hand out candy."  
Since Ghoul at the School is mostly run by student organizations, how are the preparations going to get Ghoul at the School up and running?
"They're coming along pretty well. I would say, you know, I have sent out a big email, a mass email to the staff, and so what we usually do is I wait to hear back from clubs and also from athletic groups because those are the people that really help put it [Ghoul at the School] on. […] I will probably be sending out a reminder email at the end of this week just to kind of give another heads up, like hey, we need to know how many people are going to be here because i need to know how many tables I'm going to need for it, like how many people are going to be involved in it, and like the students that are going to be involved so it's coming along well." , Shoults answers
Sophie Roark, one of the many committee members for NHS's booth, replies, "We are in the beginning stage right now […] we just sent out a QR code for people to sign up to be on the committee, I know I have already started pulling ideas for booth ideas so right now we are in the beginning stages, but we plan on, once people start signing up, to start contacting and saying 'Hey, we need to meet together and brainstorm ideas'."
While NHS is just one of the many clubs participating, what are some of the other clubs?
According to Cionfolo, "S
GA plans Ghoul at the School, but NHS and most of the major student organizations, like Mu Alpha Theta, HOSA, DECA, Key Club, as well as a number of the athletic teams like the baseball team, the football team, the volleyball team and the cheerleaders usually put together a station, and those are the ones I can think of off the top of my head.  I'm certainly forgetting some of the other organizations and teams."
Roark, who is not only on the committee for the NHS booth but also the President of DECA, comments on both the NHS and the DECA booth,
"We [The NHS Committee] are planning on going all out, we have have a big committee so far, at least it looks like we are going to have a big committee, so if everyone pitches in, we plan to have a really, really nice booth."As far as the DECA booth goes she comments, "I know some of the other officers have started planning activities, […] it will be pretty nice too, we'll relate it somehow back to DECA."
What is the KHS population, not just Cionfolo, Shoults, and Roark, looking forward to?
Roark jokes that she is looking forward to having the best booth, but seriously she replies, "I'm really excited since they didn't have one last year, that this one can be above and beyond and be really fun,"
Kevin Gentry, National Art Honors Society Sponsor, comments, "I love how it brings the community in, not just the parents and students of Karns High, but also the community around so there will be children of all ages here. The National Art Honors Society also gets to participate and do art with them."
Ava McGaha, a sophomore that has before attended Ghoul at the School, says that she loves seeing all the decorations that are put up. 
So, for those who are interested in going, Ghoul at the School will be happening on October 22. It is a fun event that will allow not only students and teachers to promote, and teach about their clubs but also be a fun trick or treat event for the Karns Community.