Profile: Walker Lockhart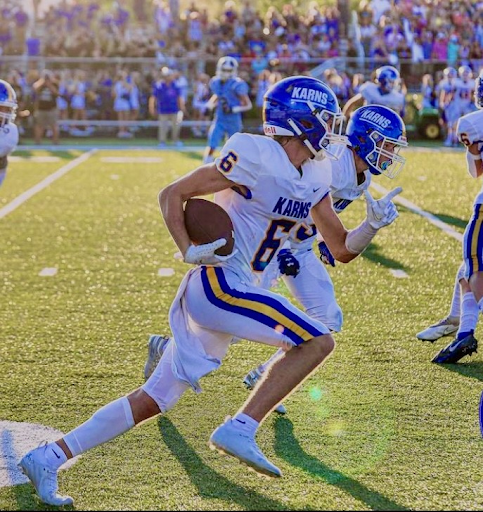 Walker Lockhart is a sophomore wide receiver/ defensive back on the Karns High School football team. As of week nine, Lockhart has 30 tackles, four touchdowns, and four interceptions. He was nominated for both WBIR and 5 Star Preps player of the week, winning 5 Star Preps and placing second on WBIR by a narrow margin. In his player of the week game, he tallied 94 rushing yards, 10 tackles, an interception, a touchdown reception, and ran the game from the shotgun for a majority of the game. He has been a rock in the Karns secondary, making plays week in and week out. Lockhart isn't only good on the field but does well in school too, enrolling in honors courses. His favorite movie is Talladega Nights. He has one sister and is very close with his family.
What made you want to play football?
 "I've just played since I was little and liked it, so I didn't quit."
When you get mad on the field what do you do to calm yourself down?
"I go to the sidelines get a drink and just cool off"
What has been your biggest achievement so far?
"Being player of the week for 5StarPreps was probably one of my biggest"
Walker is just a sophomore and is already aiming high for his career. Within his next couple years, he is going to receive more attention if he continues to follow the path he is on right now. Lockhart hopes to finish this season with a good last win at Clinton, Friday October 29th. The Beavers have clinched a playoff berth, at home, for the first time in recent memory. Lockhart hopes Karns can continue its hot streak and make a run deep into the postseason.