Season recap: Karns' "Magical" Football Season Comes to a Close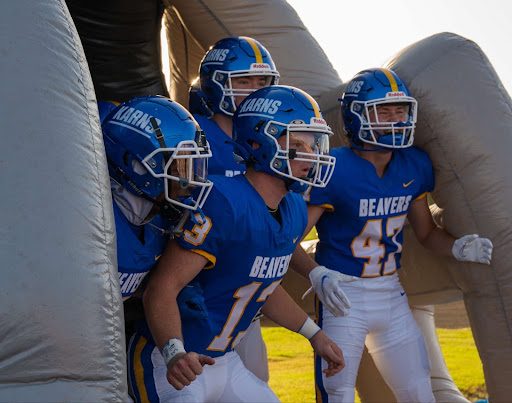 Karns' football season ended with their second round loss to Rhea County, but the successes of this year will be felt for many to come. 
"It's been important for us as a program to create some consistency," Said Karns head coach Brad Taylor. Success and consistency has been something that's eluded Karns football for as long as many can remember. 2021 saw a team that not only hosted the first playoff game in school history but won the first playoff game in history too. 
Senior offensive lineman Tim Robbins said, "coming into Karns I had one goal, and that was to be a part of the change that got this school onto a track to winning." Karns has never been known as a school with success on the football field, "[It is discouraging] when you feel as if you're stuck in a rut of losing, and the stigma around your program is unsuccessful." 2021 saw Karns' first winning season since 2011, the last time Karns had a playoff berth. 
"It's important for us to run the football and be successful at that," said Taylor. Running Back Desean Bishop definitely was successfully on the ground throughout the year. Bishop led the Beavers offense, finishing the year second on the TSSAA leaderboard for the most rushing yards in a single season with 3,179, just 193 yards short of the record. He also tied the single season record for most carries with 441. Bishop is a power five division one prospect, holding offers from Tennessee, Virginia Tech, and others. Bishop is also  a semi-finalist for Mr. Football in class 5A.
Bishop was a workhorse for the Beavers, but the team's success took everyone in Karns. "Seeing the community come together and really just surrounding the team, it was truly amazing to see and be a part of," Robbins said. The success the football team had has started a change felt throughout the school and community, rejuvenating Karns spirit. Junior defensive lineman William Bell said, "We started a culture change this year at Karns and we're just going to build on it next year." 
Football games that used to see three rows of students, saw stands packed from end to end in this year. "It has got everyone in the school excited… it's a lot easier to get people to the games," said Blue Zoo leader Jackson Fielden. Senior Ryan Lamon, who has seen the ups and downs of Karns football for the past four years, says, "The school spirit this year is the best I've seen in my four years [at Karns]."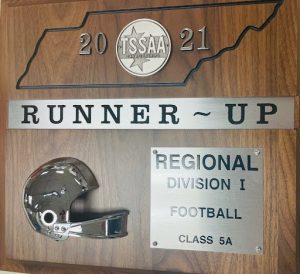 So, let's look back on the record breaking, culture changing, community altering season. 
Game 1:  W @HVA 8/20
After a week of back and forth between students ahead of the rivalry matchup, Karns defeated the Hawks 21-7. The first game of the year saw lots of penalties and lots of cramps. Although it wasn't a region game, this game set the tone for the Beavers winning season. Bishop finished with 283 yards and one touchdown. 
HVA would go on to finish 1-9 on the year, not making the playoffs. 
Game 2: W vs. William Blount 8/27 
Behind Bishop's dominant performance, the Beavers won 40-7. Karns became 2-0 for the first time in over 20 years. Bishop finished the night 351 yards and four touchdowns.
William Blount finished the year 1-9, not making the playoffs. 
Game 3: L vs. Powell 9/3
Karns' first region game of the year had a big storyline looming over the night: Tennessee recruit Desean Bishop versus the number one player in the nation Walter Nolen. With Tennessee Head Coach Josh Heupel in attendance, Powell defeated Karns 47-20. Karns committed four turnovers and had 110 yards in penalties. Bishop finished with 277 yards and two touchdowns. 
Powell finished the regular season 8-2, clinching the one seed in Region 3-5A. After defeating Ooltewah (2-9), McMinn County (8-4), and Rhea County (10-3), the Panthers travel to West on 11/26 for their first semifinal appearance since 2012
Game 4: L @Tennessee High 9/10
Karns made the long drive out to Bristol, losing a close one 33-31. Bishop would break off many long runs, but penalties would plague the Beavers all night. Bishop finished the night with 212 yards and two touchdowns. 
TN High finished the year 3-7, not making the playoffs. 
Game 5: W @Campbell County 9/17
Karns traveled to undefeated Campbell County to play C.J. Allen and the hot Cougars. Karns defeated Campbell County 41-34. Karns almost blew their lead in the second half of the game, leading 21-0 after halftime. The fourth quarter saw seven touchdowns combined scored by both teams. Bishop finished with 359 yards and 4 touchdowns. 
Campbell County finished the year 6-5, clinching the four seed in Region 3-5A. They were eliminated by Rhea County 51-29. 
Game 6: W vs. Carter 9/24
After one of the best homecoming weeks Karns has seen in several years, the Beavers defeated Carter 48-25. Many saw Carter's spread offense as one of the best in the area coming into Karns, but it was the Karns offense that stole the show. Bishop finished with 352 yards and 5 touchdowns. 
Carter finished second in Region 2-4A, but were eliminated by Elizabethon in the first round of the playoffs. They finish 7-5
Game 7: W vs. Lenoir City 10/1
Lenoir City, the worst team in the region, gave Karns a run for its money on senior night. The Beavers ultimately would win 28-21. Bishop had a hand in all of Karns scores, running for three and passing for one. Early offensive struggles made it an interesting game for the Beavers, but the defense would come through to secure the victory on Senior Night. Bishop finished with 215 yards. 
Lenoir City finished 3-7, not making the playoffs. 
Game 8: L @Halls 10/8 
Although not a region game, Karns looked to gain some momentum going into Oak Ridge, the game that would decide the Beaver's postseason fate. Hall's running back D.J. Hunt would steal the show, scoring four times in the dominant offensive performance Halls showed. Karns lost 35-14. Bishop finished with 301 yards and two touchdowns
Halls finished fourth in Region 2-5A, but was eliminated by Daniel Boone in the first round of the playoffs. They finish 5-6.
Game 9: W vs. Oak Ridge 10/14
Rivalry Thursday came to town, televising the showdown for the second seed in the region. Karns would beat Oak Ridge for the first time since 1985 on a magical night. The Beavers showed an option offense featuring Walker Lockhart at quarterback and Bishop at tailback. Oak Ridge had no answer, losing 42-35. Bishop finished with 272 yards and four touchdowns. 
Karns was now 6-3, a lock for the two seed in Region 3-5A, and hosting the first playoff game in Karns history. 
Oak Ridge finished fourth in Region 3-5A, but was eliminated by McMinn County. They finish 3-8. Oak Ridge's legendary head coach Joe Gaddis retires as the all time winningest coach in Oak Ridge history. 
Game 10: L @Clinton 10/29
In the last regular season game, Karns was defeated 50-7. On the cold and rainy night, penalties plagued the Beavers all night. The lack of Karns' offense and domination of Clinton's offense was a recipe for failure. Bishop finished with 101 yards and one touchdown, his lowest totals of the year. 
Clinton finished the year 6-4, not making the playoffs. 
Game 11: W vs. Walker Valley 11/5 
In the first home playoff game in Karns history, the Beavers hosted 5-5 Walker Valley. Karns won 27-25. Walker Valley quarterback Ryan Lay had a lot of success throwing against the Beavers, but it wasn't enough to overcome Karns. Bishop finished with 188 yards and three touchdowns. 
Game 12: L @Rhea County 
In Karns' first round 2 playoff game in history, the Beavers were in a shootout. In the end, Karns lost 63-48. Coming into Rhea County, the question was if Karns could stop the explosive "Wing-T" offense, requiring discipline and patience from the defense. The Golden Eagles scored every time they touched the ball, nine touchdowns on nine true possessions, never running one pass play. The dominant Rhea County performance outscored the Bishop and the Beavers. Bishop finished with 258 yards, four rushing touchdowns, and one passing touchdown. 
Rhea County played Powell in round 3, where the Wing-T was all but silenced. They were eliminated 27-13. 
Looking ahead
Bishop, just a junior, returns next year for his senior season as Karns tries to continue to build consistency and culture that Karns hasn't had before. 
As for the graduating seniors, the consensus is clear, "[I] couldn't be prouder to be a Beaver," Robbins says.