AVID Helps Karns High Students to Achieve More – One Student's Experience with the Program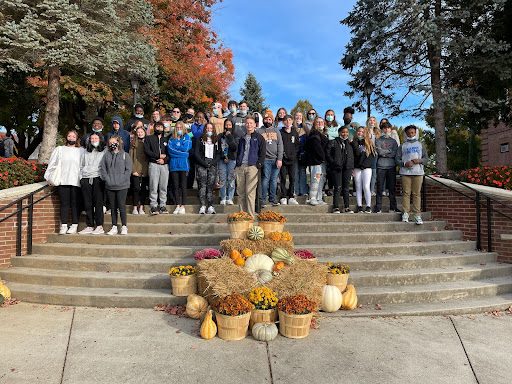 AVID was first introduced to me during my eighth grade year, where I was placed into the first AVID class at Karns Middle School. At first, I was slightly suspicious of AVID. I had been told that AVID was like a college preparation type class – the class that's going to teach you how to take notes, and read a passage better.
Being the type of kid I was in middle school, I was generally known for not being the greatest student when it comes to taking notes or studying. However after a month or two in AVID, I noticed a huge difference in my grades. I went from an A's, B's, and C's kid to an A's and one B kid.
I learned to use and keep a planner. I learned the importance and quality of Cornell notes. Something I then taught to my Stepmom, that she still uses today in college. I learned how to organize my Google Drive. Though my backpack and binders remained messy despite learning to organize them. I was also now able to annotate passages and read a passage in a way that better helped me understand what was being said.
AVID really, really helped me in middle school, and is continuing to help me in high school. My enthusiasm for AVID didn't differ when I got to high school.
My eighth grade year was the year school got shut down due to COVID. I didn't get to say goodbye to my friends who went to Hardin Valley. I didn't get to say goodbye to my teachers, and worst of all, I didn't get to say goodbye to my AVID class.
Despite this, I hoped and prayed that I was going to get an interview for AVID in highschool. I ended up doing the interview over the phone during the summer, so when I got my schedule I was excited to find out I'd made it into AVID.
However, now that my freshman year is over, and I can reflect, I definitely see stark differences between my eighth grade year and ninth grade year.
My ninth grade year of AVID felt a little repetitive, but a large chunk of it could be because I've had AVID before while many other students had not. It also was affected by the inability to go on field trips due to COVID, which was a huge part of the experience in middle school. I was still lucky, and grateful to receive the AVID 1 award.
It was just so starkly different from middle school AVID that I feel like I was missing a huge chunk of the AVID experience.
Now that I've recounted my experience, I wanted to get two other AVID student's perspectives.
When choosing interviewees for this article, I asked our AVID teacher, Bethany Burnette, who she recommended. She pointed me towards Emily Moore, an AVID 1 student, and Madison Hunnicutt, an AVID 4 student.
When everyone was asked to describe AVID in their own words, Burnette said, "I would say, AVID is a class that allows students to be able to academically prepare for college."
Hunnicutt answered, "I would describe it as a tiny community in our school of people that love and support you and people that have your best interest at heart and are there to help you succeed later in life."
Moore replied, "It basically gets you ready for college, with taking notes and the activities we do in [AVID], it's just all for college…  "
So, with that said, what draws Burnette, Hunnicutt, and Moore to AVID?
"I was asked to teach AVID many, many years ago, like twelve years ago, so I didn't choose to teach it, I was asked to, but the reason I continue to advocate and want to teach it is because I think AVID is the perfect class, where I can pull together being a teacher and being a mentor." Burnette explained.
Hunnicutt explained that she had seen the booth at the eighth grade tour night, and with some encouragement from her mother, she applied and joined AVID. She was quick to add that "it was the best decision I ever made in my life."
Moore responded that she didn't get the chance to join AVID in middle school, but she had heard about AVID and decided to apply for AVID in highschool, "I saw that it was really good for getting into college, and I really want to go to college."
When asked if Hunnicutt or Burnette would add or change anything about AVID they both answered that they wouldn't add anything but Hunnicutt was hoping that Mrs. Burnette would make it a full year class again, instead of a one semester class.
AVID has helped me learn to take better notes, and organize better, so I was curious how AVID has helped Hunnicutt and Moore. Especially since this is Moore's first year of AVID.
"I feel like it's made me more comfortable with speaking in front of other people and I feel like I've learned a lot…" Moore answers.
Hunnicutt went for the more sincere approach to the answer by mentioning how AVID helped her grow as a person, and how AVID has taught her to put in the effort now, to make later life easier.
After interviewing them, I asked all three of them if they had any other comments for the article. Burnette and Hunnicutt both had things they wanted to add.
Burnette had several things to comment on. Firstly, she wanted to say that she "passionately believes that AVID is one of the best classes that you can take in highschool." Secondly she wanted to congratulate her 19 graduating AVID 4 Students who have been accepted into colleges, and that all of them are currently just adding on the scholarship money.
Hunnicutt wanted to say, "I just can't express enough how much I love AVID, and how much I wish every person in this school could have taken AVID, cause it's just so worth it…"
Hunnicutt was also asked if she had any advice for AVID 1 students who are just going into AVID for the first time, and she said "Stick with it. It seems kinda redundant for the first year or two, like you're doing the same things and not seeing a lot of progress but you are. You really start to feel the effects of it [later]."
AVID has helped not just Hunnicutt, Moore, and I, but many other students as well. According to Burnette there are over 100 students that represent the AVID elective at Karns, and I'm sure all of those students could tell you just how AVID has helped them. AVID is well worth the effort and time.