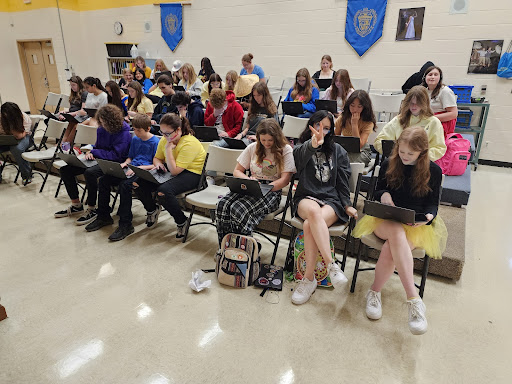 This year's musical theater auditions had freshmen coming in droves resulting in the biggest turnout for auditions ever recorded. Auditions were held on Wednesday, September 6th, and despite the number of new members joining, they still continued to retain plenty of returning members from previous years, bringing a strong blend of both experience and untapped potential to the table. There is still the opportunity to help with musical theater by joining the technical crew and helping backstage. 
The musical theater teacher Mr. Tinsley believes a big reason for the rosters size is due to their  large success in performing the play Oklahoma last year. Tinsley expressed his excitement towards getting to work with new skill sets and putting them to use in class.
 "The musical, if anything, is almost the perfect way to showcase every department from the school," said Tinesley 
Tinsley does not yet know what specific plays they are going to be performing, as he still has to get the rights to perform the plays, although he does have some plays in mind. He has been considering the musical Oliver along with The Wizard of Oz as potential candidates for plays this year, but none of these are set in stone as they still need to find the proper people for the roles in them.
Malin and Miranda Watkins juniors at Karns have been doing musical theater for six years. 
 "Go all out. Don't shy away from the stage. If you think you're doing too much. You're probably doing just enough," said Malin when asked if they had any advice for the newer thespians.
There are many different types of people with diverse backgrounds and interests in the Musical Theater class. Miranda takes this as an opportunity to meet new people, and she often advises the new freshmen to do the same thing.
"We're all there to have a good time and to have fun… It's really nice because I get to be friends with a lot of people that I wouldn't have been friends with in any other way," said Miranda.
For some individuals, musical theater serves as a way to find personal growth and achieve specific goals. Jace Vantuyl, a freshman who joined musical theater this year, strongly believes self-confidence will be one of the biggest struggles and places to improve one will most likely have to face. He hopes that participating in this class will help him overcome these challenges, achieve his goals, and find the growth that he wants. 
        "It's definitely a fun experience," said Jace.
It will take hard work and lots of preparation, but the Musical Theater team this year shows great promise. They could do with some more people over at the Technical crew. In spite of that, the new influx of freshmen and experienced members from prior years is ready to show their talent on stage.