Angel Tree Provides Helping Hand to Students in Need During Holiday Season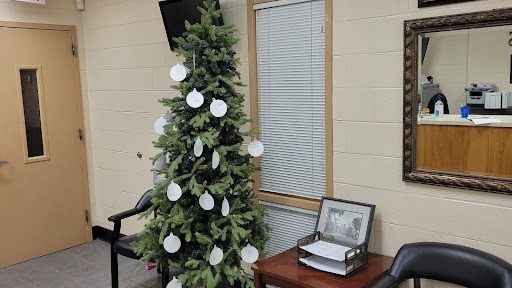 The
Angel Tree
is a program that was created by the Salvation Army in 1979. The program helps millions of families who cannot provide the best Christmas for their children. It has become a familiar holiday occurrence in many stores and businesses across the country, where people can pick out an ornament with the information of a child in need, and their Christmas list. They can buy toys and clothing for a child who may not have otherwise had the option of having those things. It is an idea that has been adopted over the years by smaller businesses and schools to ensure that families in need can provide gifts and clothes for their children. In wake of the holiday season, the KHS Student Government Association (SGA) is holding an Angel Tree to benefit KHS students and their families. The gifts provided will go to the families over the break and benefit the quality of their holiday season, and those who participate in this process can experience the holiday gift of giving.
April Shoults, the SGA staff sponsor, explains that the KHS Angel Tree has been an annual occurrence since she took over for SGA. She explains, "that was three or four years ago, but I believe it was going on before that too." The Angel Tree "is specifically for students within Karns High School that may not have the best Christmas this year." The Angel Tree provides a way for students and staff to give back to other students in the community this Christmas so that they can enjoy their holiday without the stress of providing gifts. Shoults further explains that there are "currently twenty-six families" represented on the Angel Tree this year. She says that, "Any of our community members…can grab an ornament. Any of our parents, teachers, and sometimes our students grab an ornament and purchase gifts to bring in…  then the student government will wrap them."
Students and teachers alike can be involved in this effort to help others. Chemistry teacher Meredith Rogers expressed how participating in the Angel Tree is really about the positive feeling of giving to others and lending a helping hand just as much as it is about actually helping. She says that "every year I grab a couple of ornaments, and I participate by purchasing items that are needed." Rogers points out that students can recommend students in need to be considered for the Angel Tree, and teachers can do the same. Students and teachers can inform either April Shoults or KHS social worker Courtney Courtney of students whose families may benefit from the Angel Tree. Shoults says that besides choosing ornaments and buying gifts for families, "If they wanted to get a little more involved, they could get involved in student government." SGA will be wrapping the gifts, and they do many other beneficial service activities in the community. 
Other clubs and organizations at KHS are helping SGA in their efforts, including the KHS National Honors Society. Every month, NHS holds a fundraiser and gives back to the community or the school. For December, NHS is doing candy cane grams, which is "essentially a chance for students to send [someone] a candy cane for the holidays." Students can buy a candy cane gram from a student in NHS for one dollar and send it to a person of their choice. John Cionfolo, the NHS staff sponsor, states, "It is going to benefit the Karns High School Angel Tree project, and allow us to raise funds to help make sure that as many people as possible can have a good Christmas."
The Angel Tree will be ending at Karns High School on Dec. 14, all gifts are due by then. The gifts will be wrapped by SGA and sent home to the families over the break. If students are interested in buying a candy cane gram to benefit the Angel Tree, they can buy one from a member of NHS. All candy cane grams are due on Dec. 13.