Profile: Desean Bishop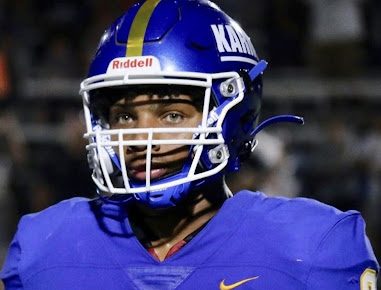 Desean Bishop is a junior running back for the Karns High School football team. As of week seven, Bishop has rushed for 2,034 yards and 20 touchdowns. He currently leads the nation in rushing yards according to "Maxpreps." His nickname is "Dbishh." His favorite NFL team is the Seattle Seahawks. His favorite NFL players are Alvin Kamara and Ezekiel Elliot. Bishop has been compared to Kamara by scouts and coaches alike due to their similar style of play and versatility. Desean has 4 siblings, 3 brothers and a sister. He's made a great impression on scouts and continues to impress week in and week out. 
 Who encourages you to play your best?
"All my coaches, my mom and dad, and mainly just my family," said Bishop.
What is some advice for kids wanting to play football? 
Bishop responded, "If you have a dream, set it high and never give up."
What is a goal you hope to achieve?
"Just coming into the season rushing forward, having 1,000 yards with only so many games and trying to beat the record of my goal, which is to achieve 2,000 yards before the end of the season," answered Bishop. 
Bishop has already exceeded this mark with three games left in the season. Bishop is chasing the TSSAA state record for rushing yards, set by former Volunteer and Beech running back Jalen Hurd. Hurd rushed for 3,357 yards in 14 games, but he only had 6 yards in one of those games. 
Desean has attracted lots of attention from Division one schools, even some Power 5. He holds 5 college offers, The Austin Peay Governors, The Eastern Kentucky Colonels, The Michigan State Spartans , The Tennessee Volunteers, and The Tulane Green Wave. At the age of 16, he already has a big future ahead of him. His high school football days aren't over yet, Bishop hopes to finish his junior year strong and have another historic season in his senior year.