Agriscience and FFA Making a Name for Themselves at KHS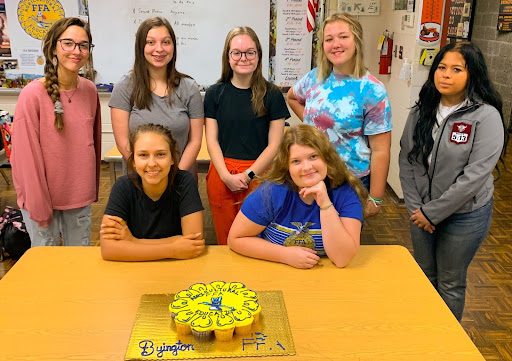 Agriculture is something that affects the world on a day-to-day basis; the corn on your plate, the milk in your glass, and even the beef for your hamburgers. Those involved in agriculture, farming, and livestock raising are what keeps the world moving. Without these people, we would not be provided with all of our food and many other resources. 
If you've ever wondered what ways you can get involved in something like this, look no further! The answer is Agriscience and FFA. 
At Byington Solway CTE, Agricultural Education is a class that is offered to Karns, Powell, and Hardin Valley students for those interested in the inner workings of agriculture. On top of this, there is a chapter of the National FFA Organization, previously known as Future Farmers of America. FFA was first established in the year of 1928, with their headquarters being located in Alexandria, VA. It was founded by Henry C. Groseclose, Walter Stephenson Newman, Edmund Magill, and Harry Sanders with the purpose of providing education on the topic of agriculture. 
The Agriculture teacher and FFA Advisor, Mr. Joshua Cameron, says that the classes fall "under the band of agriculture, food, and natural resource systems." He also says the mission is to "promote premiere leadership, personal growth, and career success through agriculture education." Cameron teaches Agriscience, Applied Environmental Science, Natural Resource Management, and Plant/Soil Science. Two of those classes (Agriscience and Applied Environmental) count for high school science credits. He then went on to say, "Everything that falls under that would be animal science, plant science, power systems, agriculture mechanics, and more. There are so many things that fall under what agriculture is and what you can actually learn." 
For those who may not know, agriculture is the practice of farming, cultivation, and/or raising livestock for many different purposes. And, one does not directly have to be a farmer to work in agriculture, since there are an array of different jobs within the career field itself. "When you have about 45% of the jobs in the US involved in Agribusiness, you'll probably be involved in it one way or another. So, why not get some training in it?" Cameron elaborates. 
The Agricultural classes at Byington are under a curriculum known as CASE (Curriculum for Agriculture Science Education). And, Cameron says that it promotes the most "rigorous thinking in an agricultural class" that he has ever seen. The curriculum brings in other aspects such as mathematics and problem solving, things that most people don't think about as being related to agriculture. "There are many folks who don't know how to do those basic-type things. Anything from reading a ruler to following basic instructions, it helps with that."
He states that more kids are becoming engaged in agriculture and interested in what they are learning. He also said that the curriculum has aided him as well, "It's really pushing the thinking way out there from what it used to be. This new curriculum has definitely energized my teaching because I see the value in it." 
As mentioned before, an FFA chapter is also offered at Byington CTE. In our state, Tennessee pays for those in agriculture classes to be a member of FFA. All you have to do is sign up! Speaking to one of the Vice Presidents of the chapter, Alexis Crass, she says that FFA is "a program that helps students form leadership skills, prepare them for their future, and get hands-on experience with agriculture." As a Vice President, she takes on roles of advising the President, helping with fundraiser planning, and attending meetings. She went on to add, "Other members are required to attend meetings and other events, just staying active."
Crass has been in the FFA program since her Freshman year, and is now a Junior. While she is not planning on going into a career that is directly related to agriculture, she is planning on going into the culinary arts. Agriculture, she says, has a large influence on this. "I hope to cultivate my own garden for any foods I prepare. So, the skills I've learned through both the Agriculture class and FFA have prepared me to know how to do that," she says. 
"Since I'm going into culinary arts, it has also shed a new light on where those foods come from," Crass states. Young people knowing the source of the food they eat each day and other products seems to be a fairly large issue in America. Cameron explains, "Unfortunately, most kids don't even know where their food comes from. They say it comes from Food City or Walmart, and there's so much more to it than just that." 
Both Crass and Cameron say that agriculture is involved in almost every aspect of our day-to-day lives. 
Cameron says, "From the time you wake up in the morning to the time you go to bed, agriculture is involved in some way. Do you have clothes? Agriculture. Do you have gas or diesel? That's an agricultural product. Even the technology in your phones and computers." He continued, "We want the next generation of people in agriculture to step up to help fill gaps."
Crass also explained, "The tables we sit at every day, the food we eat, and so much more are all tied into agriculture. More people should learn about agriculture and grow a respect for how their food is produced and cultivated." 
You may be wondering what FFA prepares students for. 
"You can take many things you do in Agriscience to other courses like Biology or Chemistry. We do a lot of things here that students might never do in a regular high school class," says Cameron. The skills and knowledge gained in both FFA and agriscience can aid them in other classes! 
Crass mentioned, "FFA has prepared me for my future in more ways than I can count. From leadership, to responsibility, it has helped across the board." She continued to say, "It also  gives students an opportunity to get hands-on experience with agriculture." 
On top of this, being a part of FFA can also help with college. "College is very competitive, they want to know what your involvement is. When folks see FFA on an application, they know you're involved. Then, they develop the abilities, leadership, and career development skills to build a resume." Cameron then said, "There are skills they've picked up in clubs like this where they can contribute to a university. A lot of the things someone will do here, they will also do in college. So, they'll be ready for it. I feel like what we do here can definitely prepare you for the big game!"
While students learn things like leadership and responsibility, they can also learn how to properly communicate with others and do public speaking. Cameron brought in some of his own experience, saying, "When I was young, I didn't want to get in front of people and talk, or give speeches. By the time I was done with FFA, I could do those things." He then explained that he has witnessed some of his students do the same thing during their in-class presentations. "We gave speeches here in class, and I saw kids that were struggling on the first one. By the time the second one rolled around, they had developed much better skills at public speaking."
Today, many young people lack those key skills of communication. Cameron explained that, "when we live in a day in time where everyone is always on their phones, many people don't know how to communicate during interviews, or even to their own families." He said that FFA is something that builds this knowledge, "We are trying to move people from being sheepish to being the bull, so to speak. Getting them to step out there, lead, and have a voice." 
So, why is involvement in agriculture so important to our society and just in general? 
For many years, the amount of people working in some sort of agriculture-related job has been steadily declining. Cameron expressed, "Today, less than about 2% to 3% of the population are involved in agriculture like farming and ranching." In only a few years from now, the world population is expected to increase tremendously. This will cause a huge problem if more people do not get involved. "Who will feed those people if the numbers keep declining? We need students to get involved in agriculture in some way." 
Not only does FFA and classes like this prepare students for the future and teach them the importance of agriculture, there are also many opportunities! This includes competitions and other events. 
"We go to leadership conferences, career development events. Others might do livestock judging and horse judging. Of course, the public speaking contests as well. We do state conventions, and even a lot of stuff with the University of Tennessee because they put on a lot of FFA events like the Block and Bridle Roundup which is another livestock judging contest," Cameron said. 
FFA and classes regarding agriculture are also much more hands-on than the vast majority of other high school organizations/courses. Cameron and Crass say that this is what gives FFA a certain uniqueness. Crass said that it gives opportunities for "hands-on agriculture experiences that other things may not offer."
Cameron added, "For example, we can judge real livestock, real cattle. We can even just go dig a hole and look at soil and learn about it. A lot of the things we do here are all real-life. We even do vet science competitions in a real vet hospital. That's definitely what sets FFA apart from others." He continued to say, "If it's livestock, cattle, or horse judging, you'll see real sheep, you'll see real Angus Beef Heifers, you'll see real horses. Even when we do meat judging, there are tons of different cuts of meat laid out in front of you. It's all hands-on and ready for you to learn about." 
Crass, when asked if she would recommend the class and FFA to students, responded, "Yes, most definitely!" She says that any student would do well in either, "Any student who shows interest and motivation would do great. As well as students who are eager to learn about agriculture and its innerworkings!"
Cameron says, "I'm always looking for people, especially those wanting to step up and lead." He continued, "Anybody that's interested in it, can come see me. If they are willing to do things and be involved, we'll get you set up. You have the chance, you just have to take it." 
He concluded by saying, "I want this Agriscience class and FFA to be something that kids want to be in. A lot of times, students don't want to because they don't know much about agriculture or aren't involved in it directly. But, you learn so much more than just agriculture. There are life lessons to learn and you never know when you'll find something you might be interested in!" 
If you are interested in being involved in the Agricultural Education class or being a part of the Karns High School chapter of Future Farmers of America (FFA), please contact him at [email protected] or visit Mr. Cameron at the Byington Solway CTE building.